GEOGRPAHY
TYPE OF TASK: TEST 2 (2022)
GRADE 12
TERM THREE
AUGUST 2022
INSTRUCTIONS AND INFORMATION
The question paper consists of FIVE questions.
ALL diagrams are included in the question paper.
Where possible, illustrate your answers with labelled diagrams.
Leave a line between subsections answered.
Start EACH question at the top of a NEW page.
Number your answers correctly according to the numbering system used in this question paper.
Do NOT write in the margins of the ANSWER BOOK.
Write neatly and legibly.
QUESTION 1: SOUTH AFRICAN ECONOMIC GEOGRAPHY
1.1 Refer to the FIGURE showing formal and informal sector trading. Match the description below with the diagram showing A and B. Write only 'A' or 'B' next to the question numbers (1.1.1 to 1.1.8) in the ANSWER BOOK, e.g. 1.1.9 A



1.1.1 Classified as informal sector.
1.1.2 Specialised equipment used.
1.1.3 Follow health regulations.
1.1.4 All profit goes to seller.
1.1.5 Unskilled workers.
1.1.6 Registered business.
1.1.7 Selling goods at a lower price.
1.1.8 Formal trading hours.
(8 x 1) (8)
1.2 Choose a term in COLUMN B that matches the description in COLUMN A. Write only the letter (A-H) next to the question numbers (1.2.1 to 1.2.7) in the ANSWER BOOK, e.g. 1.2.8. I
COLUMN A
COLUMN B
1.2.1 Industries cover large areas and tend to cause more air pollution.
1.2.2 A power station is an example of this industry.
1.2.3 Industries which can locate wherever they like.
1.2.4 Industries can be located around the CBD.
1.2.5 Orientated industries generally produce low- order goods.
1.2.6 Industries located near harbours where raw materials are imported.
1.2.7 Industries not determined by any specific locational requirements.

Footloose
Light industry
Ubiquitous
Bridge industries
Link
Raw material
Market
Heavy industry
(7 x 1) (7)
1.3 Study the infographic on gold mining in South Africa.
INFOGRAPHIC ON GOLD MINING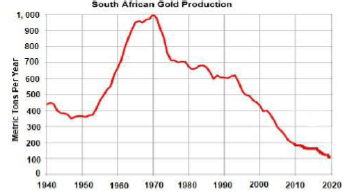 Spiralling labour and energy costs are putting pressure on the financial performance of South African gold mines, but the solution could be found in adopting digital technologies.
Most of these new technology solutions revolve around automation, facilitated by the convergence of multiple technologies, from artificial intelligence to robotics
By implementing automation, operators can remove underground workers out of harm's way, and that is going to become an ever-bigger imperative if gold miners are to remain investable by international capital.
This increased emphasis on the safety of the workforce and mines is motivating the development of the mining automation market.
Earlier, old-style techniques of exploration and drilling compromised the security of mine labour force.
1.3.1 State the trend in gold production since 1970. (1 x 1) (1)
1.3.2 According to the passage, what are the negative issues in gold mining? (2 x 1) (2)
1.3.3 Discuss ONE physical (natural) factor that could have been responsible for the trend stated in QUESTION 1.3.1. (1 x 2) (2)
1.3.4 How can 'digital technology' have a negative impact on gold mining?(1 x 2)(2)
1.3.5 Discuss possible ways in which mine labourers (workers) can hinder the production of gold in mines. (2 x 2) (4)
1.3.6 Explain some incentives (motivation) that mine owners can introduce to mine labourers (workers) to improve the production of gold in our mines. (2 x 2)(4)
[15]
1.4 Study the map, showing the core industrial regions of South Africa and answer the questions that follow.
CORE INDUSTRIAL REGIONS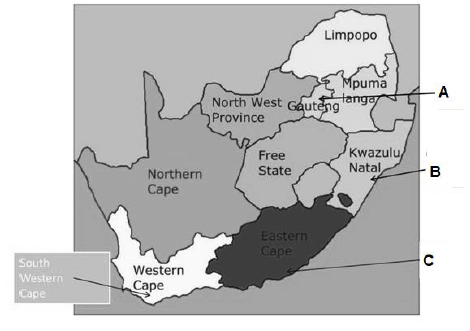 1.4.1 Name the core industrial regions labelled A, B and C in the map.(3 x 1)(3)
1.4.2 Describe ONE factor favouring the location of industrial region A.(1 x 2)(2)
1.4.3 Describe ONE factor hindering the location of industrial region B.(1 x 2)(2)
1.4.4 In a paragraph of approximately EIGHT lines, discuss why the industrial region A contributes the most to the GDP of South Africa, despite the fact that it is landlocked/inland. (4 x 2)(8)
[15]
1.5 The Maputo Development Corridor SDI was developed along the N4 National road.
MAPUTO DEVELOPMENT CORRIDOR



1.5.1 Express the acronym SDI in words. (1 x 1) (1)
1.5.2 Give TWO reasons why SDIs were developed in South Africa. (2 x 2) (4)
1.5.3 How did the Maputo Development Corridor increase the export capacity of the PWV industrial region? (2 x 2) (4)
1.5.4 Nelspruit has been declared a regional service centre for the Maputo development corridor. Suggest how this will impact on the economic growth of Nelspruit. (2 x 2) (4)
1.5.5 How will this development strategy address the socio-economic issues of the people along the Maputo Development Corridor positively? (1 x 2) (2)
[15)
TOTAL: 60