TOURISM
PRACTICAL ASSESSMENT TASK
PAT 2021
GRADE 12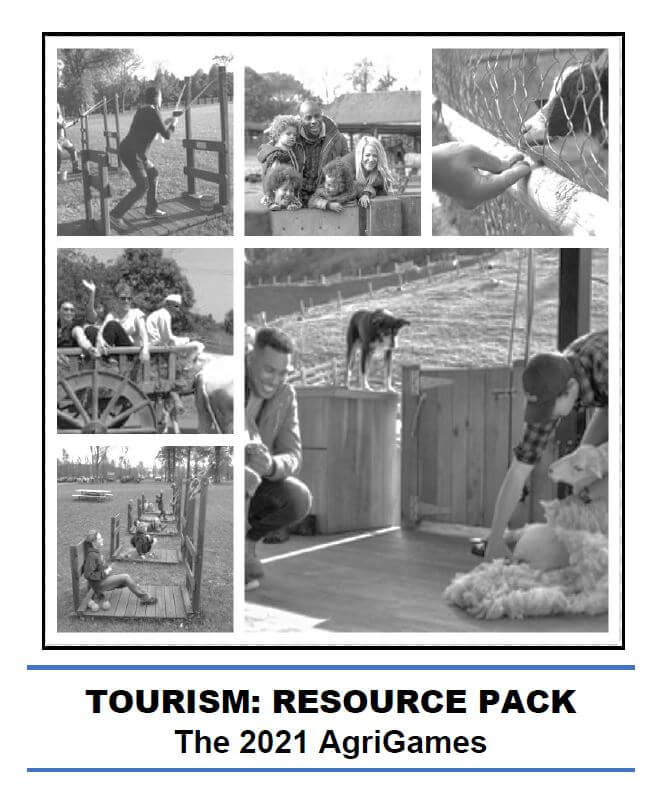 TABLE OF CONTENTS
Page
1
How to use the resource pack
4
2
Glossary
5
DAY 1
3
The 4 Rs for tourism in South Africa
8
4
ADDENDUM A: The profile of the farm
9
5

ADDENDUM B: Target Market
QUESTION 1: Introduction to the business idea

10
6

ADDENDUM C: Action Plan of the 2021 AgriGames
QUESTION 2.1: Funding for the 2021 AgriGames

11
7

ADDENDUM D: Action Plan of the 2021 AgriGames
QUESTION 2.2: Accommodation capacity

13
8
ADDENDUM E: Action Plan of the 2021 AgriGames
QUESTION 2.3: Outsourcing of food and beverage
17
DAY 2
9
ADDENDUM F: Action Plan of the 2021 AgriGames
QUESTION 3.1: The 2021 AgriGames activity
18
10
ADDENDUM G: Souvenirs for the 2021 AgriGames
QUESTION 3.2: Branded product
19
11
ADDENDUM H: Action Plan of the 2021 AgriGames
QUESTION 3.3: The 2021 AgriGames BarnYard
21
RESOURCE 1: Drones at events
21
RESOURCE 2: Tourism Sector Recovery Plan Covid-19 Response
23
1. HOW TO USE THE RESOURCE PACK
The resource pack contains the resources to help you complete the questions for DAY 1 and DAY 2.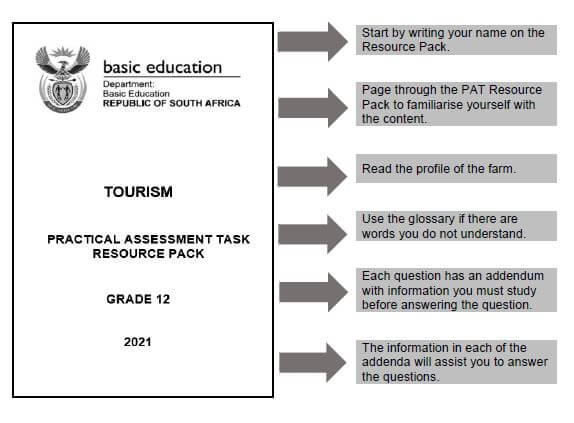 2. GLOSSARY
The glossary will help you to understand the 2021 AgriGames words/concepts used in the PAT.
ablution

Building that houses bathing and toilet facilities

AgriGames

An event where participants compete in various unique games created or designed around a farm, using farming equipment, farm animals and farm property

agritourism

A commercial business on a working farm, a farm or an agricultural plant for visitors that provides supplementary income for the owner;
agritourism and nature tourism businesses can include outdoor recreation (fishing, hunting, game viewing and horseback riding)

air conditioner

A system for controlling the ventilation and temperature in a building or vehicle, typically to maintain a cool atmosphere in warm conditions

allergens

A substance/ingredient causing a negative reaction of the body, e.g. breaking out in a rash

amenities

Something that is intended to make life more pleasant or convenient for people in a place

angel investors

Also known as a private investor – an individual who provides financial backing for small start-ups or entrepreneurs, typically in exchange for ownership in the company

arena

A level area surrounded by seating, in which sport, entertainment and other public events are held

barnyard

The area of open ground found around the large farm building which usually stores grain, hay, straw, etc. for the livestock on the farm

berth

A fixed bed on a train or other forms of transport

biosecurity

Procedures or measures designed to protect the population against harmful biological or biochemical substances

boutique hotel

A small, stylish hotel, typically situated in a fashionable urban location

branding

The promotion of a particular product or company by means of advertising and creative design

carrying capacity

The number or quantity of people or things, which can be supported in an enclosed space, e.g. a hotel can accommodate 500 people

communal facilities

Facilities used or shared by everyone, e.g. gym, public toilets and braai areas

deserted

No longer occupied or used; abandoned, uninhabited

devastating

Something highly destructive or damaging

dietary needs

Relates to the types of food eaten in one's daily diet

dormitory

A large room that accommodates a number of single beds usually in a school or institution set-up

double sharing rooms

A room containing one large bed which sleeps two people

drone technology

Refers to a flying robot that can be controlled remotely

eco-friendly

Anything not harmful to the environment

ecosystem

Plants and animals living in a given area or habitat

en suite

A bathroom that immediately adjoins a bedroom and forms part of the same set of rooms

entrepreneurship

The activity of setting up a business or businesses and taking on financial risks in the hope of profit

equity funding

Government acts as an investor and provides funding in return for a share in the start-up business

executive summary

A short explanation of the key elements in the larger document
| | |
| --- | --- |
| fast food | Frozen, preheated or pre-cooked food sold in a shop, restaurant or stall to customers, usually as takeaways |
| food and beverage supply | The process of preparing, presenting and serving food and drinks to customers |
| free-range | Livestock that roam in a natural environment with freedom of movement |
| fusion | A process of bringing together different ideas to form a single theme |
| grants | A sum of money given by government or other organisations for a particular purpose |
| harvest | The cutting or picking of mature crops at the end of the growing season |
| hotelier | A person who owns or manages a hotel |
| houseboat | A boat that is used as a dwelling/home |
| hub | The centre of an activity |
| immigration | The place at an airport or at the border of a country where government officials check the documents of people entering that country |
| incentive | A reward that makes an employee want to work harder |
| innovative | Introducing new ideas; very original and creative in thinking |
| integrating | Combining one thing with another to form a whole |
| interaction | Communication or direct involvement with someone or something |
| kitchenette | A small kitchen or part of a room equipped and set up as a kitchen |
| live streaming | Transmit or receive live video and audio coverage of (an event) over the internet |
| local procurement | The purchasing of goods or services from a local supplier |
| logistical planning | Gathering information and putting structures in place to ensure that all arrangements run smoothly |
| logo | A symbol or other design adopted by a business/event/organisation to identify its products, uniform, vehicles, etc. |
| mementos | An object kept as a reminder of a person or event; often referred to as a souvenir |
| multigenerational travel | Family members comprising of different age groups coming together for a holiday |
| patio | A paved outdoor area adjoining a house |
| personal funding | Payments that an individual receives, whether earned or unearned, which includes wages, pensions, social security benefits and retirement benefits |
| piloting | Testing/Trying something out to see if it works |
| plunge pool | A small, deep pool that is usually part of an accommodation establishment or found at the foot of a waterfall |
| prohibited | Something that is not allowed |
| rebuild | To build (something) again after it has been damaged or destroyed |
| reignite | To restart the tourism industry after the impact of the Covid-19 pandemic |
| rejuvenate | Make (someone or something) look or feel better |
| reposition | To change the image of (a company, product, etc.) to target a new or wider market |
| respondent | The one who provides feedback on questions asked |
| roll-out | The actual occurrence (happening) of the planned activities |
| rustic | Made in a simple way and relates to the countryside |
| scullery | A small area in a kitchen used for washing dishes |
| self-funding | The full responsibility for the funding of a project |
| slogan | A catchphrase that communicates a message about the brand of the business/event |
slow food movement

Slow food refers to a slow cooking process, using different free-range kinds of meat from grass-fed animals. It is prepared using natural ingredients, producing one's own food, and maintaining a strong level of awareness about the sources of food. The focus is on healthier food (nutrition), as well as on preserving culture and heritage as they relate to food.

souvenirs

Things that are purchased and kept as a reminder of a place visited, or event

sponsor

The person or organisation that makes the money available to fund a project

sponsorship

Financial support received from a person (sponsor) or organisation that pays for the costs involved in a project

stamina

The strength and energy required to allow a person to perform an activity for long periods of time

start-up

A company in the first stage of its operations

strenuous

Requiring or using great effort to undertake a task or activity

sundeck

An area that is positioned to catch the sun and is open to the sky

surveillance

Close observation of any movement within set boundaries of an area

traditional food

The food or cuisine that various cultures prepare and eat in a unique and specific way that has been handed down through many generations. It has language-specific names, local ingredients and forms part of cultural identity and heritage.

venture capital

Start-up companies with a potential to grow need a certain amount of investment. Wealthy investors like to invest their capital in such businesses.

transforming

A change in form, nature or appearance

unique selling point (USP)

How your own brand or product is better and different compared to that

of your competitors
3. THE 4 RS FOR TOURISM IN SOUTH AFRICA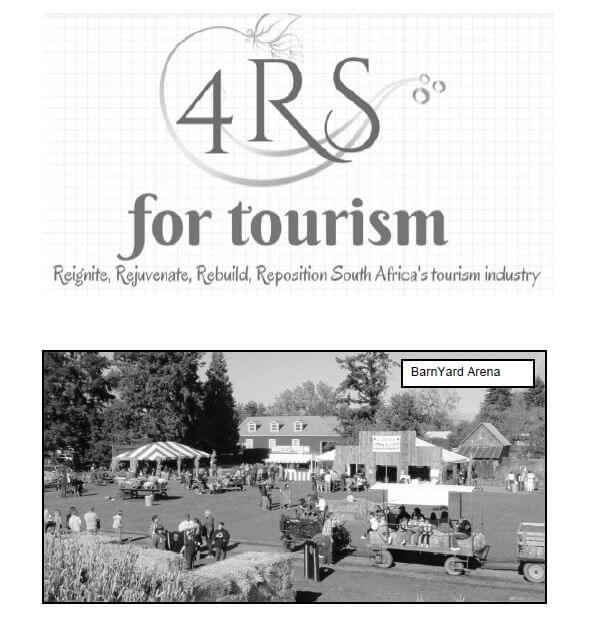 4. ADDENDUM A: THE PROFILE OF THE FARM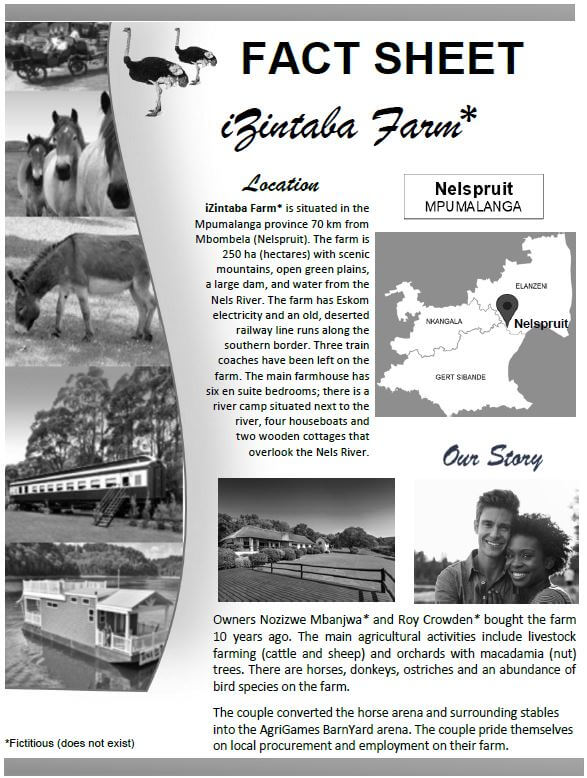 5. ADDENDUM B: TARGET MARKET
QUESTION 1: INTRODUCTION TO THE BUSINESS IDEA
The information below provides an explanation of multigenerational tourism.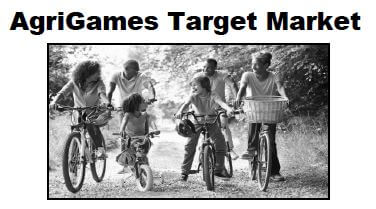 Multigenerational travel, or travelling with family members, friends, or groups of all ages, is a trend that has become very popular. Many of us feel there is no time because of the pressure of work, looking after a family, trying to keep up a healthy diet and exercising when possible.
The holiday should be a time where whole families and friends can be together. Grandparents get to spend quality time with grandchildren while parents may have time to enjoy a romantic meal or day out together, knowing their children are in safe hands. Friends and families can enjoy quality time together, irrespective of age.
To make the trip enjoyable for all, it should include a variety of activities, such as adventure (e.g. quad biking, cooking classes or cultural experiences)
[Adapted from www.trafalgar.com/real-word/multigenerational-travel]
6. ADDENDUM C: ACTION PLAN OF THE 2021 AGRIGAMES
QUESTION 2.1: FUNDING FOR THE 2021 AGRIGAMES
Suggestion to the learner:
Highlight the various sources of funding in the article below.
Decide which sources will be best for the AgriGames event.
Make your recommendation as per instruction.
Do NOT plagiarise (Do NOT copy information as is).
FUNDING OPPORTUNITIES FOR SMALL BUSINESSES AND START-UPS

Small business funding in South Africa
Start-up funding is not easy to find. There are various types of start-up funding, as explained below.

Government funding
The South African government is a supporter of job creation and entrepreneurship in South Africa. It offers various types of funding for small businesses:

Grants: awarded in percentages. A business receiving a 100% grant does not have to repay the government for the grant. When a lower percentage is received, the remaining balance must be repaid.
Incentives: Businesses that made a profit will qualify for a tax rebate or refund.
Equity funding: The government acts as an investor and provides funding in return for a shareholding percentage in the start-up business.

Depending on the industry and type of business, the applicant may qualify for funding from the following government sources:
The Department of Trade and Industry (DTI)
The DTI is responsible for promoting trade, consumer protection, Black Economic Empowerment and commercial and industrial policy.

The Black Industrialists Scheme (BIS)
Managed by the Industrial Development Corporation. The BIS is a grant that previously disadvantaged entrepreneurs qualify for on the basis that they already have co-funding.

Green Fund
A fund that was specially developed to support green initiatives.

Tourism Transformation Fund
A National Empowerment Fund (NEF) initiative. This fund is specifically aimed at supporting previously disadvantaged entrepreneurs and communities in the tourism industry.
Growth Fund
This fund is for emerging small, medium and micro-enterprises (SMMEs) that create jobs. The applicant will have to meet certain criteria to qualify for grant funding.
Technology Innovation Seed Fund
Application for grant funding of up to R1 million to improve research, develop new technology and concepts that can be used for further business development.
National Youth Development Agency (NYDA)
Businesses involved in any form of youth development or upliftment can apply for NYDA funding.
National Empowerment Fund (NEF) and NEF Women Fund
NEF provides support and funding to black-owned and female-owned businesses.
Crowdfunding
Instead of approaching one large entity such as a bank or a single investor, crowdfunding involves raising small amounts of money from many people. Potential donors are reached by advertising funding needs on social media.
Angel investing
Angel investing is when high-earning or rich investors support small businesses. Often this kind of investment happens during a phase when the start-up ventures do not qualify for other forms of traditional funding. Angel funding often takes place in exchange for shares or equity, or there will be a repayment agreement involved.
Business incubators
Incubators are specialists in developing and fast-tracking small businesses with the potential to grow. They may provide start-up capital and/or other resources, such as office space, management training, as well as financial and marketing advice.
Bank loans
All major banks in South Africa offer business loans. Business bank loans involve a lot of administration and paperwork and has a long list of criteria that have to be met. Banks usually provide a more affordable form of business funding than alternative lenders.
Relief funding
Small businesses that had to close for a few months, e.g. due to the Covid-19 pandemic, may be struggling to cover their basic expenses, including salaries. Such companies may apply for funding from the Solidarity Fund, Governmental SMME Funding, UIF subsidy, as well as through tax relief.
[Adapted from www.theworkspace.co.za]
7. ADDENDUM D: ACTION PLAN OF THE 2021 AGRIGAMES
QUESTION 2.2: ACCOMMODATION CAPACITY
2.2.1 FARM-STAY COTTAGES
Waking up to nature's most musical soundtrack of birdlife, green fields and cattle grazing is a reminder of what life sounds like outside the urban environment. Two wooden farm-style cottages containing three double sharing bedrooms each overlooking the Nels River on iZintaba Farm. Feel the freedom of open spaces found within the premises of the cottages. They offer:

Full kitchen

Patio

Parking

Linen

Braai area

En suite bathrooms

Tea- and coffee-making facilities

Cost: R650 per night

Capacity: Maximum of six people per cottage
2.2.2 BOUTIQUE HOTEL
Set amongst natural surroundings with afternoon teas and cocktails on the deck in Nelspruit (Mbombela). Located within a 70 km radius of iZintaba Farm. Stay in the lap of luxury like a king with five-star treatment at your doorstep.

Wi-Fi

En suite

Restaurant

TV

Hairdryer

Garden

Air conditioning

Safe

Braai area

Cost: From R2 200 per night, breakfast included

Capacity: 50 guests sharing in 25 luxury double rooms
2.2.3 BACKPACKER ACCOMMODATION
5 km away from iZintaba Farm and offers budget accommodation. Comfortable single bunker beds. Facilities include:

Communal bathroom

Internet

Laundry

Kitchen

Parking on the premises

Free lockers

Cost: From R 157 per night

Capacity: 10 people in each of the three dormitory-style rooms
2.2.4 CARAVAN PARK
Located onsite on the iZintaba Farm, this park has 30 caravan sites (four people per caravan). Offering ablution facilities with all the conveniences expected at a top resort – clean, well maintained and serviced daily. Hot water day and night with sculleries and laundries. Facilities include:

Grassed stands

Scullery

Cellphone reception

Wheelchair friendly

Water points

Braai facilities

220 volt electricity

Cost: From R280 per stand per night

Capacity: 120 persons
2.2.5 BED & BREAKFAST
The B&B is located 5 km from the farm. A double-storey house with six bedrooms. Unfortunately, no children below the age of 15 are allowed. Facilities include:

Wi-Fi

Television

Parking on the premises

En suite bathrooms

Bar fridge in the rooms

Dining area

Cost: From R680 per night

Capacity: 12 persons (two persons per double room sharing)
2.2.6 TENT CAMPSITE UNDER THE STARS​
There is nothing to compare with sleeping under the stars in the great outdoors. Unwind at your campsite after a long day spent at the AgriGames. iZintaba's campsite with its 15 camping stands is new with modern facilities.

Two modern ablution blocks

Free Wi-Fi

Parking on the premises

Braai area

Electricity points on each stand

Warm water

Cost: R100 per stand per night

Capacity: Maximum of four persons per stand
2.2.7 SHIPPING CONTAINER ACCOMMODATION
The owners have converted four shipping containers into accommodation for the 2021 AgriGames, which is an affordable choice on the farm. Each container is fully fitted with a kitchen and en suite bathroom with accommodation for four persons.

Kitchen

Shower/Toilet

Linen

Braai area

Pet friendly

Private patio

Cost: R500 per unit per night

Capacity: Four persons per shipping container
2.2.8 HALENI HOTEL

Situated 43 km away from the host farm of the 2021 AgriGames, this 5-star hotel offers a variety of amenities and facilities. It offers 46 double sharing en suite rooms with private access. Come and enjoy the luxuries of this hotel after the daily activities at the AgriGames.

Private access

Three restaurants

En suite bathrooms

Free Wi-Fi

24-hour room service

Spa access

Bar fridge in the rooms

Cost: From R5 000 per night per room

Capacity: 92 persons
2.2.9 TRAIN COACHES
The train coach accommodation is located on iZintaba Farm. There are three coaches containing three double rooms each. The bedrooms are luxurious and spacious with enough indoor and outdoor recreational areas. Facilities include:

Air conditioning

Smoking rooms

En suite bathrooms

Recreational area with pool

Double rooms with television

Bar area

Cost: From R583 per person per night

Capacity: 18 persons
2.2.10 TREE-HOUSE LODGE
Located 22 km away from the host farm. Each of the four tree houses contains four bedrooms with two single beds each and a fully-equipped kitchen and entertainment area. This accommodation provides a unique experience in a natural environment.

Full DStv

Fireplace

Underfloor heating

Free Wi-Fi

Outside shower

Plunge pool

Cost: From R1 500 per night

Capacity: Eight per tree house (four persons in four double rooms)
2.2.11 iZINTABA HOUSEBOATS
Rent one of the four houseboats on the Nels River for the 2021 AgriGames. If you love water and want to be surrounded by nature, this will be an amazing experience. Relax in the boat with its eco-friendly reed and bamboo furniture. Each boat has two double rooms with mosquito nets, one bathroom, a sundeck and two small private balconies for each bedroom.

Luxury bedrooms

Sundeck

Air conditioner

Kitchen

Warm and cold water

Free Wi-Fi

Cost: From R1 000 per night for the boat

Capacity: Four (two persons in two double rooms)
8. ADDENDUM E: ACTION PLAN OF THE 2021 AGRIGAMES
QUESTION 2.3: OUTSOURCING OF FOOD AND BEVERAGE
TIPS ON CREATING YOUR OWN QUESTIONNAIRE
By Daniel Ndukwu
| | |
| --- | --- |
| When creating your own questionnaire, you need to carefully consider the purpose of the questionnaire, audience or target group. Also consider the method you are going to use to reach your target group, question order, types of questions, length of the questionnaire, simple presentation or design and language usage. | |
DIFFERENT TYPES OF QUESTIONS
Questionnaire question types
Not all question types are ideal in every situation. This is the reason why it is important to understand the type of questionnaire you are creating first. With that information, it becomes easier to choose the right question types.
Open-ended questions
These questions are open for the respondent to answer with more freedom. Respondents write as much or as little as they want.
Multiple-choice questions
This question presents the respondent with a list of options and they can ONLY select ONE option.
Yes/No questions
This is a question with only two possible answers. It tends to be a yes/no question, but it can also be something like agree/disagree or true/false. Use this when all you need is basic information without going too deeply into the motivations.
Scaled questions (range of similar options differing slightly)
Scaled questions are common in questionnaires and are often used to judge the degree of a feeling, e.g. never, rarely, sometimes, often and always. A variety of scales can be used.
Picture questions
These questions replace text with images. Respondents are asked a question and shown pictures to choose from. It usually has a higher response rate than other question types.
[Adapted from www.kyleads.com/blog/questionnaire]
9. ADDENDUM F: ACTION PLAN OF THE 2021 AGRIGAMES
QUESTION 3.1: THE 2021 AGRIGAMES ACTIVITY
EXAMPLE OF AN AGRIGAMES ACTIVITY

NAME OF ACTIVITY

PUMPKIN HARVEST TIME

The duration of the activity
(How long is the race? Remember it should be a timed race in order for it to be competitive.)

1 hour

The age/weight restriction for participation
(Provide an age requirement for the race, as some activities can be either too dangerous or too strenuous for certain age groups.)

16–55 years

The description of the activity
Design the activity, be creative in your design, ensure you include the fun factor into the activity.

The event takes place on the 10 hectare iZintaba Farm's pumpkin land.
Participants must choose their own tools and farm equipment provided by the farm for their activity (no electrical/mechanical equipment, i.e. no tractors or cars, etc. will be permitted).
Each participant is required to gather as many pumpkins as possible and take it to a central point within the given time period of 1 hour.
Points will be awarded for the total weight of the harvest and not for the quantity of pumpkins gathered.
Each participant will only be allowed to harvest within a certain area.
Once the participant has cut the pumpkin free from the pumpkin plant, participants use any other non-electrical farm equipment of their choice to move the pumpkin to the central point.
The game will begin and end at the firing of the umpire's gun.
Any participant who does not follow the rules of the activity will be disqualified.

The safety precautions for participating in the activity
(To ensure that there are no injuries or spreading of diseases such as Covid-19 amongst the visitors and participants)

Carry water for yourself.
Wear comfortable walking shoes and wear suitable clothing.
Carefully follow the safety instructions on the use of farm tools and equipment.
Keep to the designated route and follow the directions from the organisers.
Be aware of your surroundings at all times.
Maintain social distancing.
Wear your mask at all times.

The rules for responsible tourist behaviour (Take note to protect flora and fauna; participation in activities and events must ensure sustainability in every way possible.)

Under no circumstances must the pumpkin plant be uprooted.
The harvesting or damage to budding and young pumpkins will result in disqualification from the activity.
No animal must be harmed in any way.
10. ADDENDUM G: SOUVENIRS FOR THE 2021 AGRIGAMES
QUESTION 3.2: BRANDED PRODUCT
In this question you are expected to design a branded product for the 2021 AgriGames. This product must be made by the local community and will be sold as souvenirs to visitors to the 2021 AgriGames.
Remember:
It is important that the product should be unique and innovative so that visitors will want to buy the product as a reminder of the event.
Your design must be A4 size.
The drawing must be clear and the product easy to identify.
The logo of the 2021 AgriGames must appear on the product.
You have the choice whether you want to do the design in colour.
What is a souvenir?
An item given, kept or bought as a reminder of a place visited, an occasion, an event, etc. Also called a 'memento' or 'keepsake'. Souvenirs is an important component of the tourist's experience, with most tourists taking back mementos and souvenirs as evidence of the places they have visited. People like to be reminded of special moments in their lives.
LOGO
A logo is a symbol or a design of a business/event/organisation to identify its products, uniform and vehicles. A logo is usually made up of text and images.
EXAMPLES OF BRANDED PRODUCTS FOR SOUTH AFRICA
Checklist for designing a branded product for the 2021 AgriGames

The logo of the 2021 AgriGames

The drawing is clear and includes the logo

An explanation of why the product is eco-friendly

An explanation of the suitability of the product as a souvenir
11. ADDENDUM H: ACTION PLAN OF THE 2021 AGRIGAMES
QUESTION 3.3: THE 2021 AGRIGAMES BARNYARD
RESOURCE 1
DRONES AT EVENTS
Event trends – the growing use of drones at events
By Susan Gunelius, 27 July 2020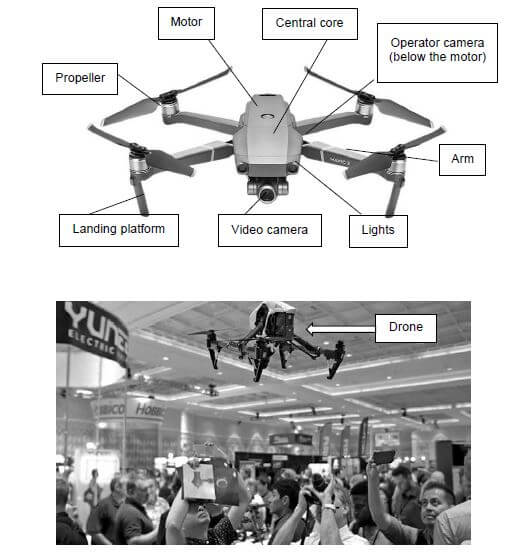 10 INNOVATIVE WAYS TO USE DRONES AT EVENTS
1. PHOTOS
Drones can take amazing photos of events from the air that can be shared to social media for real-time viewing during the event. They can also take photos before the event, which can be used for marketing.

2. VIDEOS
Drones take beautiful videos of events from the air. Drone videos can be used for event planning, too. For example, when looking at multiple locations for the event, videos can help to remember what each place offered or to be shared with other planners at the office.

3. LIVE STREAMING
Live streaming events are popular and using drones that move around can make viewers feel as if they are actually part of the event. Artists can be live streamed when performing, a backstage tour and more.

4. SURVEILLANCE AND SECURITY
Drones can operate as mobile security cameras. Event staff members can quickly identify and act on anything that might be out of place or could pose a danger to people attending, however people's privacy should not be invaded.

5. LOGISTICAL MONITORING
Drones can be used to monitor the organising of the event. For example, drones can monitor traffic in the parking area and at the gates or doors. If lines get long, organisers will immediately know to send additional workers. Drones can monitor all parts of large outdoor events – giving an overview of the arrangements during the event.

6. VISUAL SHOWS
Drones are great for entertainment, especially visual shows. Many events use drones for air shows, including night-time shows with lights timed to music. These shows always draw a crowd and create a shareable moment.

7. RACING FOR ENTERTAINMENT
For some events, drone races could work well. With drone racing, a number of drone pilots are hired to race their drones at a special event within the main event. For example, an air show might promote a drone race where people can cheer for their favourite drone.

8. SPONSORSHIP
Companies can invest sponsorship by showing off their logos on drones, which is a fresh way of brand awareness instead of logos on water bottles, banners, posters, conference bags, flyers, T-shirts, etc.

9. MOBILE HOTSPOTS
Drones can be used as mobile hotspots. Better internet speed or network connections are available by adding a drone hotspot. Having a fast Wi-Fi connection is important to boost social media sharing and word-of-mouth marketing during the event.

10. DELIVERY
Drones are used to deliver items to people attending an event in creative ways. Drones can be used to drop off food, giveaways, handouts and contest prizes at official drone delivery areas at the event, keeping safety regulations in mind.

[Adapted from www.attendstar.com]
RESOURCE 2
TOURISM SECTOR RECOVERY PLAN COVID-19 RESPONSE (AUGUST 2020)
OVERVIEW
The Covid-19 pandemic has had a deep impact on the global tourism sector. Governments across the world had to implement necessary measures to manage the spread of the coronavirus.
Tourism in South Africa, as is the case in the global economy, has been thrown into a crisis by the Covid-19 pandemic, putting thousands of businesses and jobs at risk. The sector needs to resume operations as soon as it is safe to do so.
The re-opening will minimise economic and employment impacts and position the country for broader economic recovery.
To assist gradual re-opening, the tourism sector must ensure that all Covid-19 health and safety protocols must be followed at all times. This includes observance of guidelines for social distancing, sanitation and hygiene, and the use of appropriate personal protective equipment, like cloth facemasks, as determined by the National Department of Health (Biosecurity standards).
Three strategic themes are central to South Africa's recovery: Reigniting restarting demand by reassuring tourists of safety protocols in place by all tourism sectors. Rejuvenating supply and strengthening enabling capability such as the R200 million Tourism Relief Fund, the waiver on Tourism Grading Fees and the Tourist Guide Relief package in the range of R30 million.
The approach is to strengthen SMME support, getting multi-stakeholders working together in developing community assets and ownership.
Reviving leisure travel after the crisis will focus on VFR and FIT (Fully Independent Traveller) segments, where itineraries have fewer activities and attractions will be popular.
Rebuilding domestic tourism will be aimed at encouraging local experiences, specifically day trips and weekend retreats, as well as business travel.
Repositioning South Africa as a viable tourist destination may take many years, but measures such as the e-visa, increased marketing of domestic tourism and government's policies on safety protocols will speed up recovery of the tourism sector.
South Africa can look forward to a bright tourism future that drives growth and development.
[Adapted from Tourism Sector Recovery Plan Covid-19 Response, August 2020]